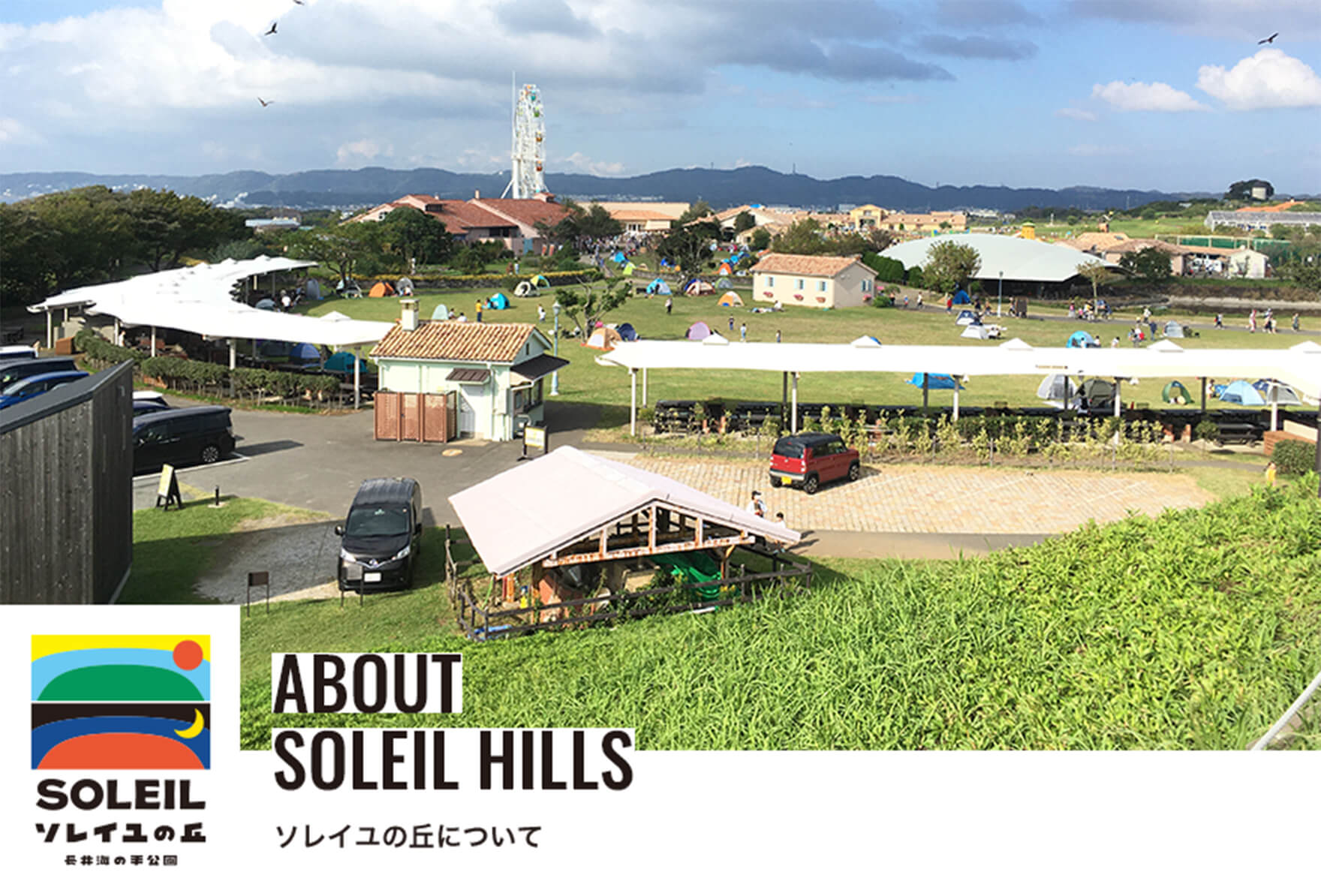 A complex entertainment park where visitors can enjoy a variety of activities, such as interacting with seasonal flowers, animals, and agriculture, as well as a full range of playground equipment, food and beverages, and camping style activities.
This urban park is located approximately 70 minutes by car from central Tokyo, but has an excellent location with a large expanse of sky and spectacular views of Sagami Bay, Izu Oshima Island, and Mt.
The renewal in April 2023 will feature a new 15-meter-high large athletic facility that offers spectacular views and thrills, and a zip line from which visitors can take off.
Glamping and new sites have been added to the popular camping, expanding the range of accommodation styles.
In addition, the hill of Soleil has been enhanced with indoor sports experience facilities that are not affected by weather conditions, a dog run that you and your dog can enjoy together, and a further expansion of restaurants where you can enjoy eating and walking.
Opening Hours and Fees

opening hours (of a park, etc.)

March - November: 9:00 - 18:00 / December - February: 9:30 - 17:00

Opening hours are subject to change due to events.

kindergarten enrolment fee

free
Playground equipment and food and beverage facilities will incur additional costs.
Discount playground equipment coupon tickets are also available.

Click here for details of coupon tickets

Parking fee

Pay parking: 1,700 spaces
Parking fee (one time): regular car: 1,050 yen, motorcycle (51 cc and over): 400 yen, large vehicle (height: 2.7 m and over): 2,500 yen

Parking tickets are not issued for the park's parking lot due to vehicle number recognition. For smooth exit from the parking lot, we recommend that you pay when you arrive at the park. There is no time limit for leaving the parking lot after payment.

Motorcycle users should use Parking Lot 1.

*Parking fee is waived for use within 30 minutes.
*Parking is free for Yokosuka City residents on the 2nd and 3rd Sundays of each month (Yokosuka Citizen Appreciation Day). Please prepare proof of Yokosuka City residency and apply at the Main Gate Information (Information Desk) or at the Nagai Base in Hilltop Square.
*Parking fees are waived for holders of the Physical Disability Certificate, Rehabilitation Certificate, or Mental Disability Certificate. Please have your identification book ready and apply at the Main Gate Information (Information Desk) or at the Nagai Base in Hilltop Square.
*Parking fees are waived every Wednesday (Silver Appreciation Day) for those 65 years of age or older. Please have your driver's license or other proof of age ready and apply at the Main Gate Information (Information Desk) or at the Nagai Base at Hilltop Square.
*Parking hours are until 6:00 p.m. on days when the hot spring facilities are closed.

Parking lot hours

8:00 - 21:30

Prohibited items and precautions

prohibited items (e.g. articles that cannot be brought into a store)

Self-propelled vehicles are not allowed (motorcycles, kickboards, bicycles, etc.)

Cautions/Prohibitions

No firearms allowed (except in campgrounds)
Prohibit the act of bringing in self-propelled vehicles (kickboards, bicycles, etc.)
Prohibition of damaging or defacing the park's facilities and equipment
Prohibition of collecting or capturing plants and living creatures in the park
Prohibits the use of drones
Please do not engage in any other activities that may disturb other users.
Tents (outside of campsites) must be one-touch tents of approximately 2m square.
Pegs may not be used outside of the campground.

                          


*This park and campground do not receive or accept courier deliveries of camp rental items or other packages.

Application for events and filming

Events

Prior application is required to hold an event in the park. Please contact us first from the following link.
event@soleil-park.jp

To groups and individuals using the Lakeside Stage (formerly the Water Stage)
Event organizers, performers, and related parties are also charged a parking fee of 1,050 yen per car. No reduced or exempt parking fee tickets will be issued.

photographing

Individuals are free to take photos. Professional photographers and event photography require prior application. Please contact us from below.
info@soleil-park.jp

Group Use

Group plans are available for parties of 15 or more.
For field trips and field trips that incorporate "active learning," "inquiry learning," and "SDGs learning" that take advantage of the open space.
For training tours for companies and groups that wish to implement "team building" through rich experiential content.
As content for sightseeing tours of Yokosuka and Miura's good things.
From preschoolers to active seniors, there are endless ways to have fun!

Administrator Information

           
Designated manager: Area Management Yokosuka Joint Venture